Five Sigma
About me
---
My posts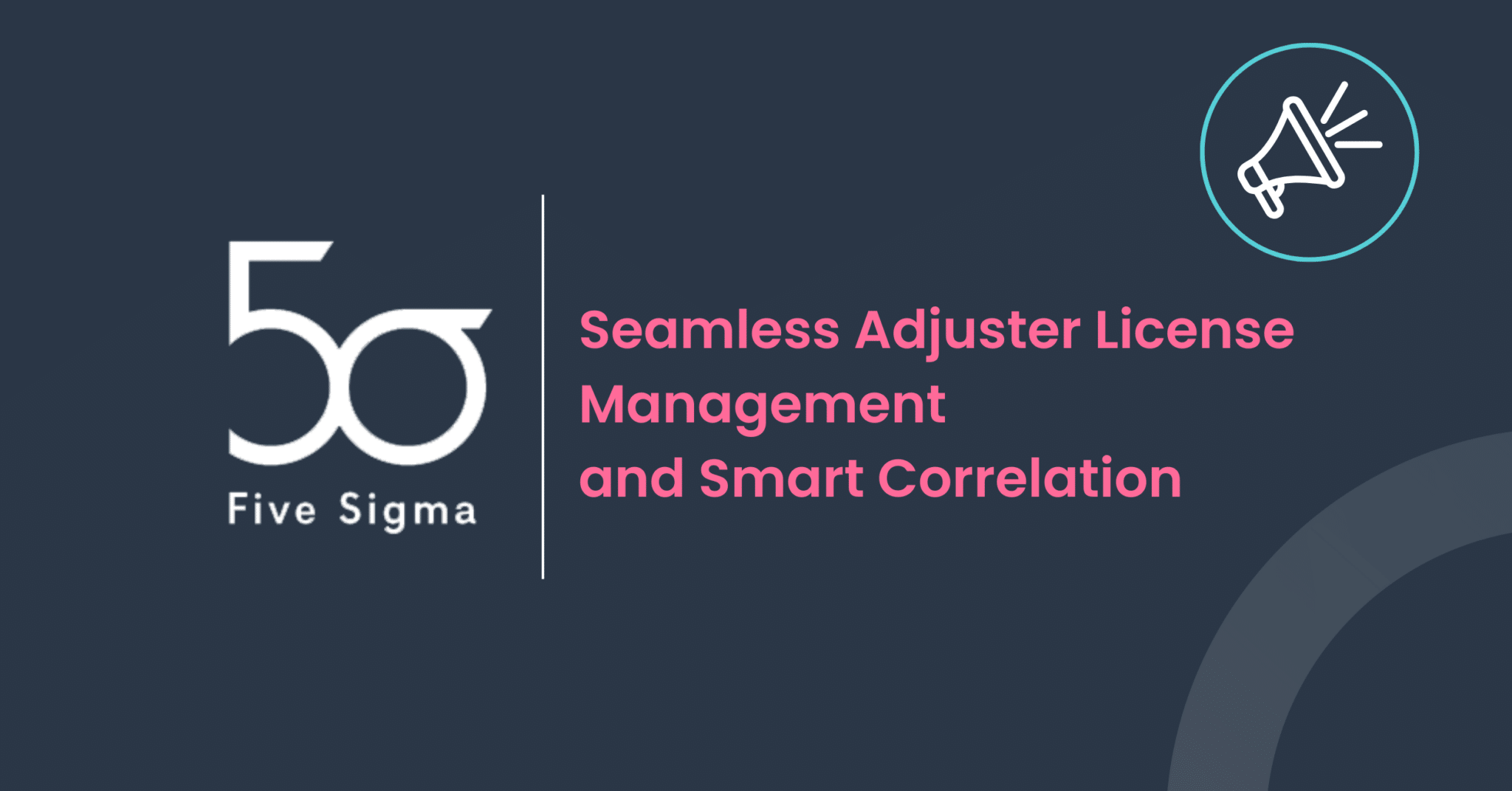 Five Sigma
September 6, 2023
Introducing Seamless Adjuster License Management and Smart Correlation
Revamp your claims management procedures with our state-of-the-art feature enhancements designed to simplify license management and ensure precise claim allocations.  Enhanced Adjuster License Oversight: Bid farewell to the complexities of license management! Introducing our cutting-edge adjuster license oversight repository, revolutionizing the process. Administered by your organization's claims manager, monitoring licenses has never been more straightforward. …
Revamp your claims management procedures with our state-of-the-art feature enhancements designed to simplify license management and ensure precise claim allocations.  Enhanced Adjuster License Oversight: Bid farewell to the complexities of license management! Introducing our cutting-edge adjuster license oversight repository, revolutionizing the process. Administered by your organization's claims manager, monitoring licenses has never been more straightforward. …
Overcoming Communication Challenges in Claims Handling Effective communication stands as a cornerstone for success in the dynamic realm of claims handling. Navigating interactions with policyholders, claimants, and service providers demands seamless, personalized communication. Yet, the industry has long grappled with communication breakdowns, leading to bottlenecks, inaccuracies, and customer discontent. Unmasking the Pain Point:  A Lack …
Automation is increasingly both a necessity and an opportunity for claims organizations. To learn how to make the most of it, check out our new guide.
Check out the key findings from our recent survey for insight into how insurance companies manage claims, how they use tech, their future plans, and more.
APIs are an essential component of modern software development, and they can especially help claims departments optimize their performance. Here's why.
WP_User Object
(
    [data] => stdClass Object
        (
            [ID] => 12
            [user_login] => fivesigma
            [user_pass] => $P$BzFcTPgzUUkxG9UrS7hpimigsoztWk1
            [user_nicename] => fivesigma
            [user_email] => info@fivesigmalabs.com
            [user_url] => 
            [user_registered] => 2023-07-16 03:46:21
            [user_activation_key] => 1689479183:$P$BDgki4C/0kgXRVbOuipeMVxnTtGuk4/
            [user_status] => 0
            [display_name] => Five Sigma
        )

    [ID] => 12
    [caps] => Array
        (
            [administrator] => 1
        )

    [cap_key] => wp_capabilities
    [roles] => Array
        (
            [0] => administrator
        )

    [allcaps] => Array
        (
            [switch_themes] => 1
            [edit_themes] => 1
            [activate_plugins] => 1
            [edit_plugins] => 1
            [edit_users] => 1
            [edit_files] => 1
            [manage_options] => 1
            [moderate_comments] => 1
            [manage_categories] => 1
            [manage_links] => 1
            [upload_files] => 1
            [import] => 1
            [unfiltered_html] => 1
            [edit_posts] => 1
            [edit_others_posts] => 1
            [edit_published_posts] => 1
            [publish_posts] => 1
            [edit_pages] => 1
            [read] => 1
            [level_10] => 1
            [level_9] => 1
            [level_8] => 1
            [level_7] => 1
            [level_6] => 1
            [level_5] => 1
            [level_4] => 1
            [level_3] => 1
            [level_2] => 1
            [level_1] => 1
            [level_0] => 1
            [edit_others_pages] => 1
            [edit_published_pages] => 1
            [publish_pages] => 1
            [delete_pages] => 1
            [delete_others_pages] => 1
            [delete_published_pages] => 1
            [delete_posts] => 1
            [delete_others_posts] => 1
            [delete_published_posts] => 1
            [delete_private_posts] => 1
            [edit_private_posts] => 1
            [read_private_posts] => 1
            [delete_private_pages] => 1
            [edit_private_pages] => 1
            [read_private_pages] => 1
            [delete_users] => 1
            [create_users] => 1
            [unfiltered_upload] => 1
            [edit_dashboard] => 1
            [update_plugins] => 1
            [delete_plugins] => 1
            [install_plugins] => 1
            [update_themes] => 1
            [install_themes] => 1
            [update_core] => 1
            [list_users] => 1
            [remove_users] => 1
            [promote_users] => 1
            [edit_theme_options] => 1
            [delete_themes] => 1
            [export] => 1
            [copy_posts] => 1
            [wpseo_manage_options] => 1
            [rocket_purge_opcache] => 1
            [manage_security] => 1
            [rocket_manage_options] => 1
            [rocket_purge_cache] => 1
            [rocket_purge_posts] => 1
            [rocket_purge_terms] => 1
            [rocket_purge_users] => 1
            [rocket_purge_cloudflare_cache] => 1
            [rocket_purge_sucuri_cache] => 1
            [rocket_preload_cache] => 1
            [rocket_regenerate_critical_css] => 1
            [rocket_remove_unused_css] => 1
            [bcn_manage_options] => 1
            [administrator] => 1
        )

    [filter] => 
    [site_id:WP_User:private] => 1
)