Smarter Technology for a Simpler Claims Journey
Five Sigma's cloud-native, agile, and scalable SaaS solutions empower you to optimize and automate your claims management process from end to end.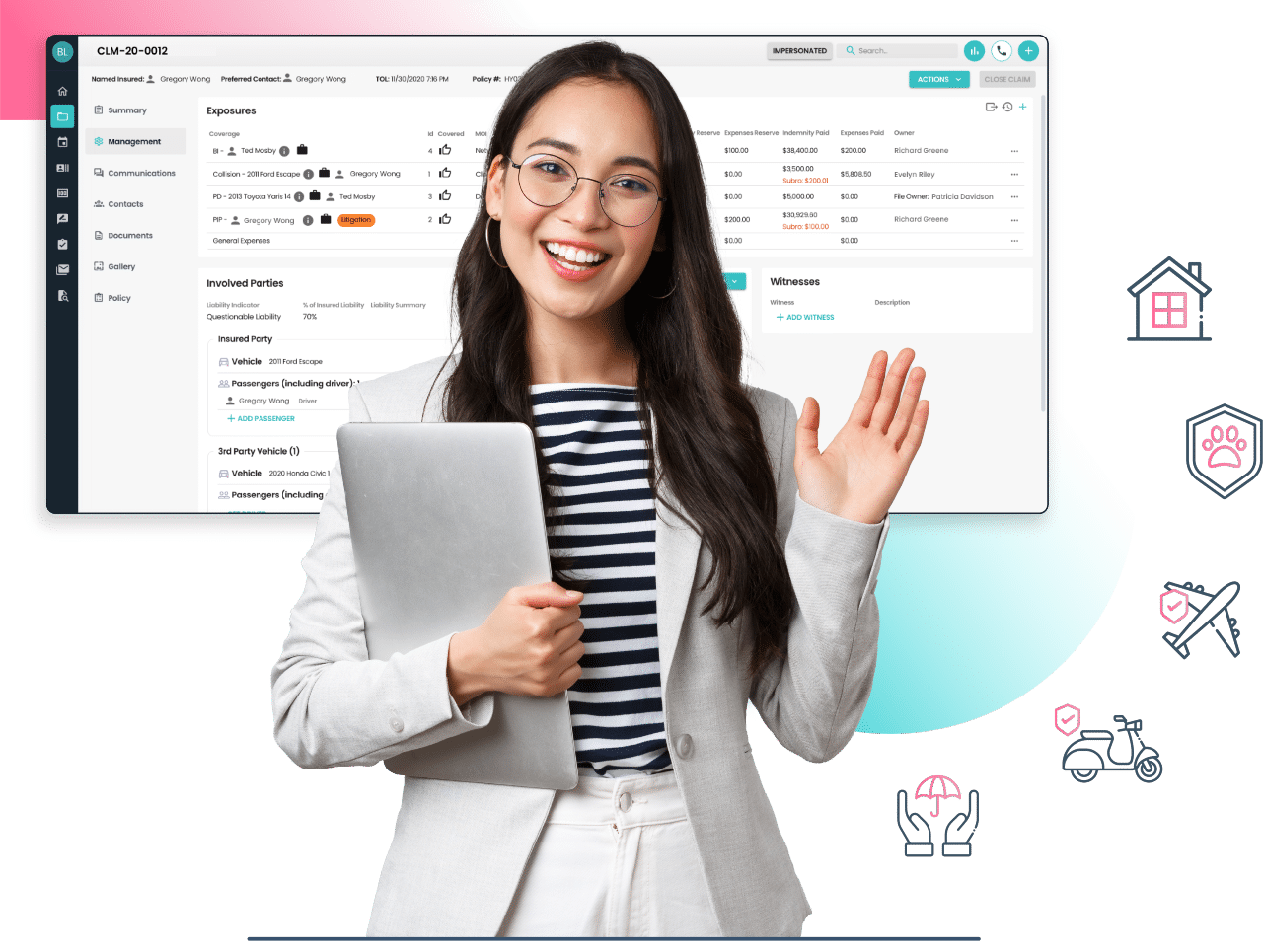 See How SaaS Simplifies Claims Management

Utilizing data modeling, embedded AI, machine learning, and automated workflows, Five Sigma's claims management system makes claims processing simple for insurance carriers, insurtechs, TPAs and self-insured companies.
Five Sigma's 5 Steps to Simplify Claims Management
Make It Simple To Deploy & Grow
Our claims management solutions can be deployed in weeks.
Flexible APIs easily integrate with policy, billing, and third-party applications.
You can start with a single LOB and scale gradually.

Make It Simple To Use
Onboarding your adjusters takes just a couple of hours.
The CMS guides adjusters through the entire claims journey.
Make and receive all communications with vendors and customers from within the platform.
Our Cloud SaaS application means connectivity, security, privacy and other IT-related tasks are on us.

Automate Whatever Can Be Automated
Our automated workflows and alerts save you time and increase efficiency.
Smart automated claims triaging and reserve improve accuracy.
Define your level of automation, from simple and repetitive tasks to straight-through processing (STP).

Use AI to Apply Smart Recommendations
We use historical and online data to provide claims intelligence recommendations that help your adjusters to perform better.
We embed our recommendations seamlessly in your workflows.

Use Data Modeling to Create Visibility & Macro Insights
100% visibility of your data to make smarter decisions.
All your data is queryable, easily accessible, and exportable to your reporting engines or data warehouse.
Take control of your claims by defining relevant dashboards and reports.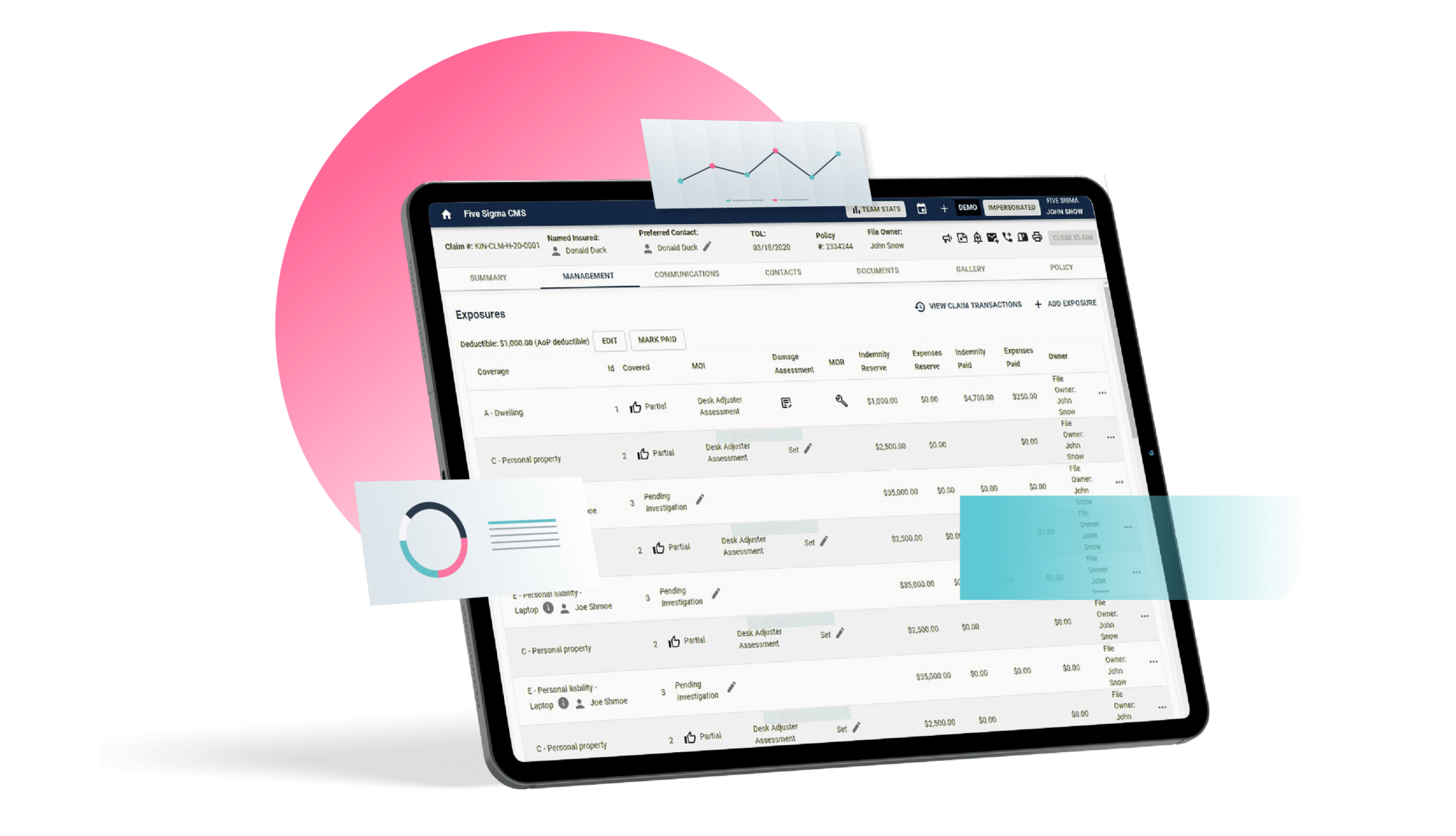 Data-Driven Technology Every Adjuster Needs
With intelligent, data-focused modeling of claim files and workflows, everything claims managers need to know is in one place. And with flexible APIs, deep integration and contextual recommendations, each adjuster conveniently receives the guidance they need to make the smartest decisions and simplify claims management.
What Our Customers Are Saying
Five Sigma delivered at record time and at the highest quality.
We saw an immediate and significant improvement in cycle time and reduction in loss severity.
We are now expanding our partnership globally.
With Five Sigma
we've seen immediate, vast improvement on claims cycle time and an increased ability to utilize data and analyze claims trends.
We look forward to continuing our partnership to provide a superior claims experience for our end users and our insurance and reinsurance partners.
I've worked on at least seven different claims systems and this is one is probably
the most intuitive and user friendly that I've ever seen.
Why Choose SaaS?
Five Sigma's cloud-SaaS solution benefits you with state-of-the-art technology, ongoing seamless upgrades, a high standard of security, without dependance on IT, and above all, the ability to focus on your core insurance business. 
With endless cloud-SaaS scalability, you can grow gradually, enjoy a flexible pricing model, and make technology a driving force for growth—not an obstacle that slows you down.