4 Key Insurance Claims Trends Revealed in the 2023 State of Claims Intelligence Report
Check out the key findings from our recent survey for insight into how insurance companies manage claims, how they use tech, their future plans, and more.
---
If you work in the insurance industry, you know what a challenging time this is for the market. As insurers still face varying degrees of fallout from the COVID-19 pandemic, a combination of inflation, increasing natural disasters, and seemingly ever-rising customer expectations are contributing to pressure to lower loss ratios and loss adjustment expenses (LAE) while improving customer service.
In the face of those challenges, insurers are increasingly showing an awareness of the power, benefits, and necessity of new technologies and new approaches to managing claims.
How significant is that shift, how is it already transforming the world of claims management, and how will it continue to bring about change in the future?
To shed light on those questions and more, we recently commissioned a survey of 100 senior claims and risk leaders at property and casualty (P&C) insurance companies in the U.S.
The survey, which was carried out by independent research and survey company Global Surveyz, provides valuable insight into an insurance industry increasingly eager to adopt new technologies for managing claims – even as many of its claims organizations still rely on legacy technologies.
Here are four of the key insurance claims trends shown by its results:
1. Insurers see the value of smart automation and are planning accordingly.
When the survey respondents were asked whether smart automation could significantly improve claims organizations' accuracy, efficiency, both, or neither, 58% replied that it can significantly improve both.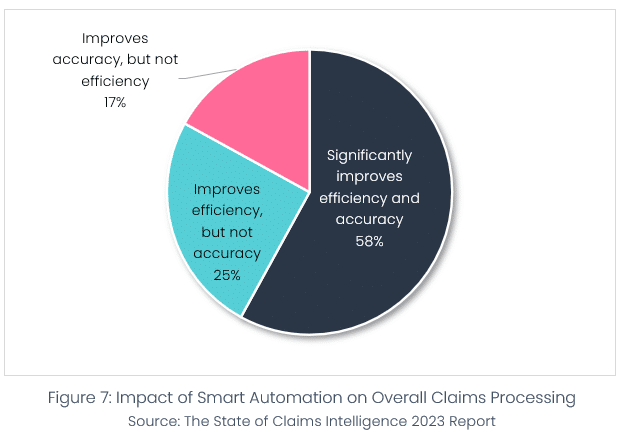 And that positive view of automation is more than a sentiment. Half (exactly 50%) of respondents said that implementing automation along the claims journey is an investment priority for their company. While that doesn't make automation the top investment priority (real-time reporting and SaaS/cloud tech were both designated as investment priorities by more than half of respondents), it does suggest that a sense of the importance of automation is concretely affecting budgeting decisions.
2. They're bringing claims management in-house and moving it to the cloud.
Various data points from the survey results show that insurers are bringing claims management in-house and overwhelmingly planning to switch from on-premises to cloud-based solutions.
Specifically, we found that:
72% of respondents said they manage claims in-house – up from 66% in
99% plan to replace their claims management software, with 63% planning to do so by 2026.
While only 11% already have a cloud-based claims management solution (CMS), 87% said they plan to move from an on-premises solution to a cloud-based one – including 62% who said they plan to do so by 2026.
All told, 73% either already have a cloud-based CMS or plan to have one by 2026 – and 98% either already have one or plan to get one at some point in the future.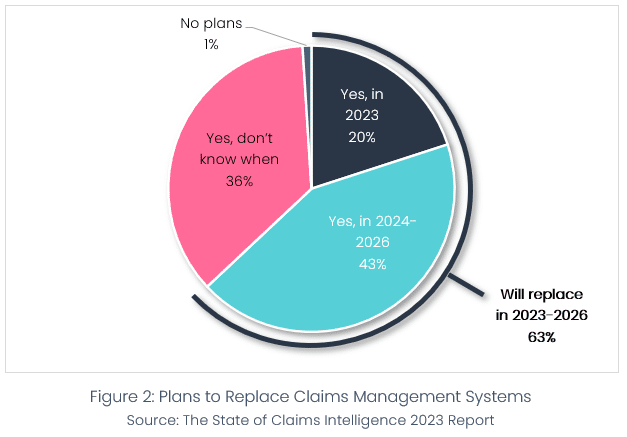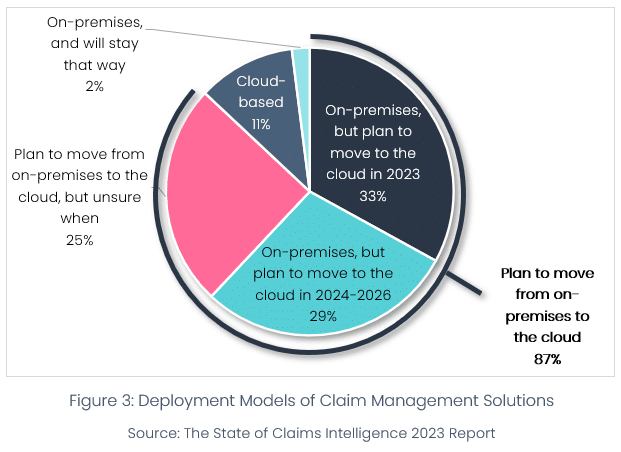 3.  They need to tap into the power of data and analytics, and they know it.
A whopping 87% of respondents said that the role of data and analytics in claims processing is either "very important" (51%) or "extremely important" (36%).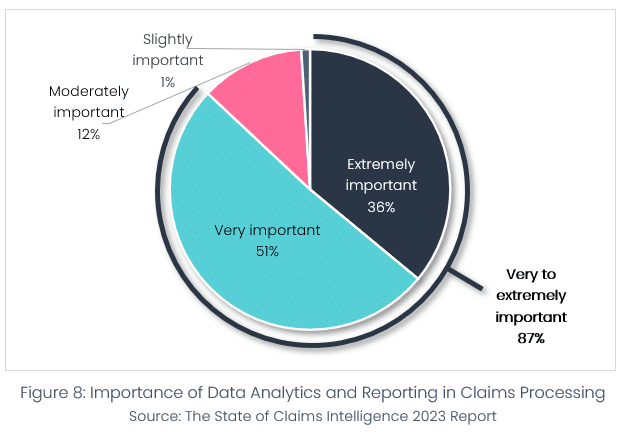 Similarly, when asked about their top challenges for 2023, the factor cited by the most respondents was a lack of real-time reports to help with claims management (22%). And when asked about their tech investment priorities for 2023, real-time reporting was the capability cited by the most respondents (80%).
While the importance of using claims data and analytics effectively is well known, the reality that data-related capabilities are such a priority among insurance leaders in 2023 is notable.
4.  When it comes to claims management, they're putting their money where their mouth is.
Underscoring the trends towards using technology to streamline and enhance claims management, we found that insurance companies are budgeting accordingly.
Specifically, a majority of survey respondents (66%) said their budgets for claims management software in 2023 are between $500,000 and $749,000. Meanwhile, most respondents (61%) said their 2022 budgets for claims management software were between $250,000 and $499,000.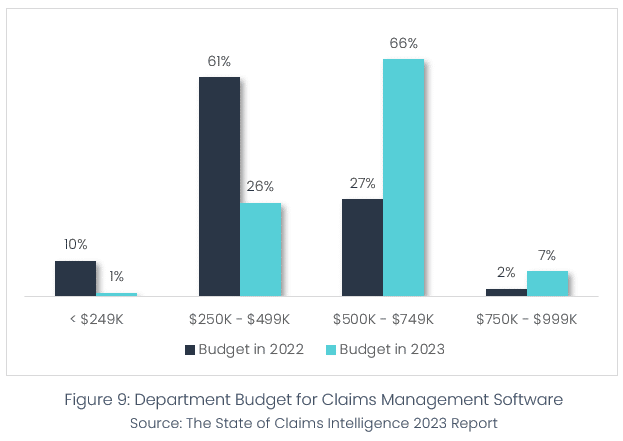 Seeing the big picture
Taken together, our survey results hint at major changes in claims management in the foreseeable future.
While we can see that typical claims organizations still rely heavily on legacy technologies, our findings show that they are widely planning to increase their use of automation, cloud-based systems, and other solutions for managing claims accurately, reliably, and efficiently.
In addition to the key takeaways highlighted above, the full survey results provide deeper insight into sentiments, plans, and trends in the world of claims management, including top challenges and priorities as identified by insurance leaders.
For a complete breakdown and analysis of all the survey's findings, download the report here.